Cookie statement
1. General information

Ghelamco Group, a company under Belgian law ("commanditaire vennootschap op aandelen"/ "Société en commandite par actions") (hereinafter: "Ghelamco", "we", "us" or "our"), acting as a data controller, processes your personal data, notably by way of cookies and similar technologies (as defined below) when you are using this website.
Your personal data may also be processed by third parties through their own cookies and similar technologies. For more information regarding such third parties, please see the section "Third Party Cookie" below.
The Cookie Statement explains what cookies and similar technologies we use on our website for what purposes and the options you have for managing your preferences.
On our website, we use technologies that make it easier to use our website, make our website more user-friendly and provide various features (please see sections 3 and 4 for further details). Examples of such technologies include cookies, pixels and scripts (hereinafter referred to as "Cookies").
Cookies are small data files that are stored on your device and that contain data such as for instance personalized page settings (e.g. language, screen resolution). This data file is generated by the web server you have connected to via your web browser and then sent to you.
Please find more information on how we process your personal data, including personal data collected through cookies, how you can execute your data protection rights and the contact details of our data protection officer in our Privacy Statement (link).

2. Managing Cookies

In principle, it is possible to use our website without Cookies, but the use without cookies may alter the functioning or availability of the website. However, if you wish to make full use of our website features, you should accept Cookies that enable you to use certain features or make it more convenient for you to do so.
Most web browsers are set to allow all Cookies by default. However, you can prevent the use of Cookies at any time with effect for the future by changing your browser settings so that no Cookies or only certain Cookies are allowed or so that you are notified as soon as Cookies are sent. This may mean that you cannot use all the features of our website in full.
Please bear in mind that your choices only ever affect the browser you used when you made such choices. If you use different browsers or end devices, you may need to exercise your choice regarding cookies again. Under certain circumstances after updates, or if you delete the cookies from your browser, the settings can be reset to the basic configuration and we may ask you to exercise your choice regarding cookies again upon your next visit to our website.
The following links will assist you in managing your Cookies browser settings, or you can use the 'Help' option in your internet browser for more details:
• Internet Explorer: http://support.microsoft.com/gp/cookies/en
• Mozilla Firefox: http://support.mozilla.com/en-US/kb/Cookies
• Google Chrome: http://www.google.com/support/chrome/bin/answer.py?hl=en&answer=95647
• Safari: http://support.apple.com/kb/PH5042
• Opera: http://www.opera.com/browser/tutorials/security/privacy/
• Adobe (flash cookies): http://www.adobe.com/security/flashplayer/articles/lso/
There are also software products that can manage Cookies for you. You can also find further information about Cookies and how to manage Cookies on help pages on the Internet such as https://www.allaboutcookies.org/.
If you change/set your browser settings or use certain software products that block cookies we will respect these browser settings and not send the cookies disabled in your browser settings or via such software products. If you allow cookies in your browser settings, we will present a cookie banner on our website which allows you to manage your cookie settings, e.g. activate certain cookies. Cookies (other than strictly necessary cookies) will only be placed if you provide your consent to the relevant cookie category. Please note that strictly "essential cookies" (see section 3 below) do not require your consent and will always be placed if you allow cookies in your browser settings.
You can withdraw your consent and change the cookie categories selected by you at any time. Please refer to the "cookie settings" in the footer of the website.

3. What Cookies do we use?

We generally use cookies belonging to the following categories:
Category Description
Essential cookies These cookies are essential for the functioning of the website. Without these cookies, services such as the vehicle configurator would not work.
Functional cookies These cookies enable a website to store data that has already been entered (e.g. user names, configurations, language settings), and to offer the user enhanced, more personalized features.
Performance (analytic) cookies These cookies are used to make our website more user-friendly and therefore to improve the user experience by analyzing the behavior of the website users. They collect information on the use of our website, the number of visits, average dwelling time, pages requested. Performance cookies help us e.g. to identify the most popular elements of our online offering and to develop the website further on the basis of your needs. We also use performance cookies in connection with user tracking (see section 4 for detailed information).
Marketing cookies These cookies are used to offer content that is more relevant to the user and tailored to his interests. They are also used to limit the number of times an ad appears and to measure and control the effectiveness of advertising campaigns. Cookies register whether you have visited a website or not and what content has been used. This happens on a unique identification of your browser and your internet device. The information may possibly be communicated with third parties, e.g. advertisers, and may be used for their own purposes, thus the relevant advertisements can also be shown to you on other websites. These cookies are often linked to third party website functions.
Social Media cookies These cookies are used based on social connect functionalities or when you make use of a social media add on button, e.g. clicking on the 'Like' icon on a webpage. Social media features and widgets are either hosted by a third party or hosted directly on our websites.
a. Storage period

Cookies may also save files permanently or temporarily on your device.
Permanent cookies store a file on your end device for a particular period until the cookie's expiry date (or until you delete it). They store e.g. language settings so that you don't have to configure this repeatedly for our website.
A session cookie temporarily stores a session ID while you are active on our website. This prevents you from having to login again if you change pages, for instance. Session cookies are deleted when you log out, or lose their validity as soon as your session has expired.

b. First / Third Party Cookies
(1) First Party Cookie
A First Party Cookie is referred to as a cookie implemented by us as a data controller or our data processors. Ghelamco is responsible for the data processing. Ghelamco processes the data collected from the First Party Cookies for its own purposes, regardless of whether it programmed the cookie himself or implemented the cookie of another legal entity.
(2) Third Party Cookie
A Third Party Cookie is a cookie that is set by a third party other than Ghelamco, for instance by our services provider. Third party cookies originate from various domains of third parties who can flexibly use the cookies to track user behavior on our website and across other third-party websites outside the third party's offer (especially for user-specific advertising). When you visit a website where the advertising network places advertisements, the advertisements on that website may place a third party cookie on your device. That cookie usually stores the number of page visits and the length of time you have been there. If you revisit again a website on which the advertiser's advertisement is also placed, the advertiser can recognize you by means of the cookie and, thanks to the information collected, offer you individual advertisements of its own. While we allow third parties to access the site to install these cookies on users' devices, we do not retain control over the time these third party cookies will be stored in your devices. The data collected from the cookie is processed by the third party for its own purposes as an individual controller pursuant to their corresponding privacy and cookies policy or as a joint controller together with us. This also includes Third-Party Cookies from third-party social networks, which enable to share information with the respective social networks.

c. Cookies stored on this website

Below you will find a summary of the cookies we use on our website, which is intended to inform you of the purpose and nature of the relevant cookies as well as the third parties that have access to the cookies and how long they are stored for.
(1) Essential ("strictly necessary") cookies

(2) Functional cookies



(3) Performance (analytic) cookies
(4) Marketing cookies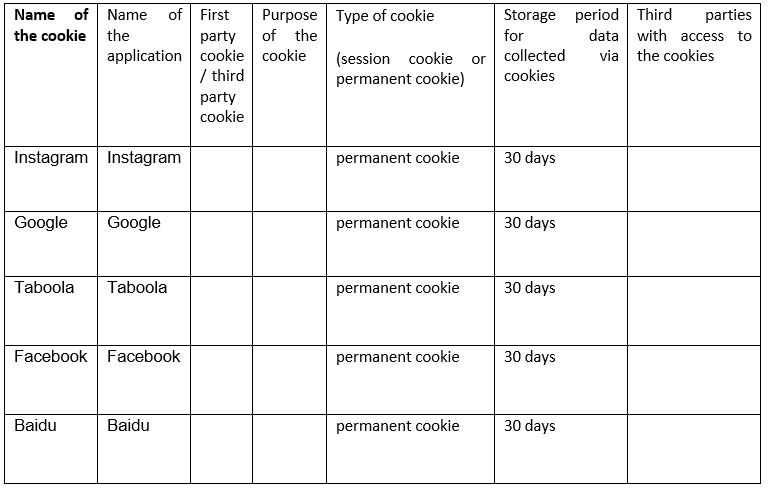 (5) Social media cookies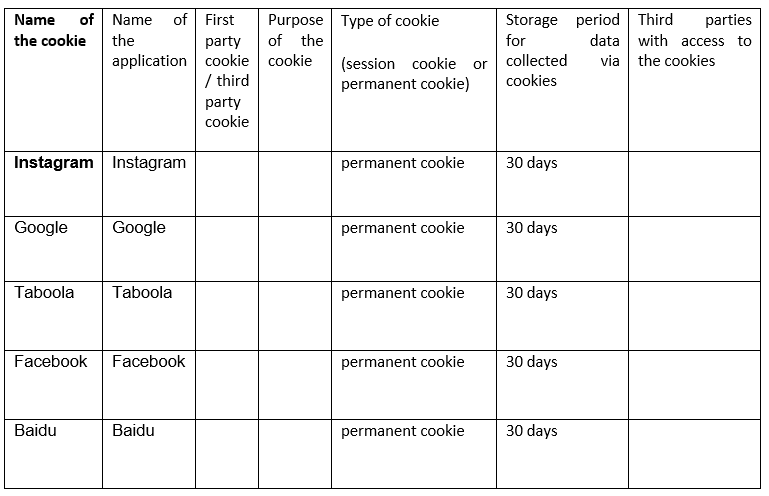 4. Further information on third party services/cookies
Facebook Connect. For more information about what Facebook collects when you use Facebook buttons on the website, please see: https://www.facebook.com/about/privacy/#.
Facebook Ads. For more information about what Facebook collects and your choices around Facebook Ads, please see: https://www.facebook.com/ads/ad_choices.
Twitter. For more information about what Twitter collects when you use Twitter buttons on the website or visit pages on the website that include these buttons, please see: https://twitter.com/en/privacy.
LinkedIn. For more information about what LinkedIn collects when you use LinkedIn buttons on the website or visit pages on the website that include these buttons, please see https://www.linkedin.com/legal/preview/privacy-policy.
Google Analytics: For more information about Google Analytics cookies, please see Google's help pages and privacy policy.
Google has developed the Google Analytics opt-out browser add-on; if you want to opt out of Google Analytics, you can download and install the add-on for your web browser here (add hyperlink).
Google Analytics is a web analytics service provided by Google, Inc. ("Google"). Google uses cookies to help us analyze how users use the website. The information generated by the cookie about your use of the website (including your IP address) will be transmitted to and stored by Google on servers in the United States. In case of activation of the IP anonymization, Google will truncate/anonymize the last octet of the IP address for Member States of the European Union as well as for other parties to the Agreement on the European Economic Area. Only in exceptional cases, the full IP address is sent to and shortened by Google servers in the USA. On behalf of the website, Google will use this information for the purpose of evaluating your use of the website, compiling reports on your activity for us and third parties who help operate and provide services related to the website. Google will not associate your IP address with any other data held by Google. You may refuse the use of these cookies by selecting the appropriate settings on your browser as discussed in this notice. However, please note that if you do this, you may not be able to use the full functionality of the website. Furthermore you can prevent Google's collection and use of data (cookies and IP address) by downloading and installing the browser plug-in available under https://tools.google.com/dlpage/gaoptout?hl=en-GB .
Further information concerning the terms and conditions of use and data privacy can be found at http://www.google.com/analytics/terms/gb.html or at https://www.google.de/intl/en_uk/policies/.
Please note that on the Website, Google Analytics code is supplemented by "gat._anonymizeIp();" to ensure an anonymized collection of IP addresses (so called IP-masking).
A guide to behavioral advertising and online privacy that has been produced by the internet advertising industry can be found at http://www.youronlinechoices.eu/

5. Contact us
If you have any further questions, please do not hesitate to contact us via info@ghelamco.be