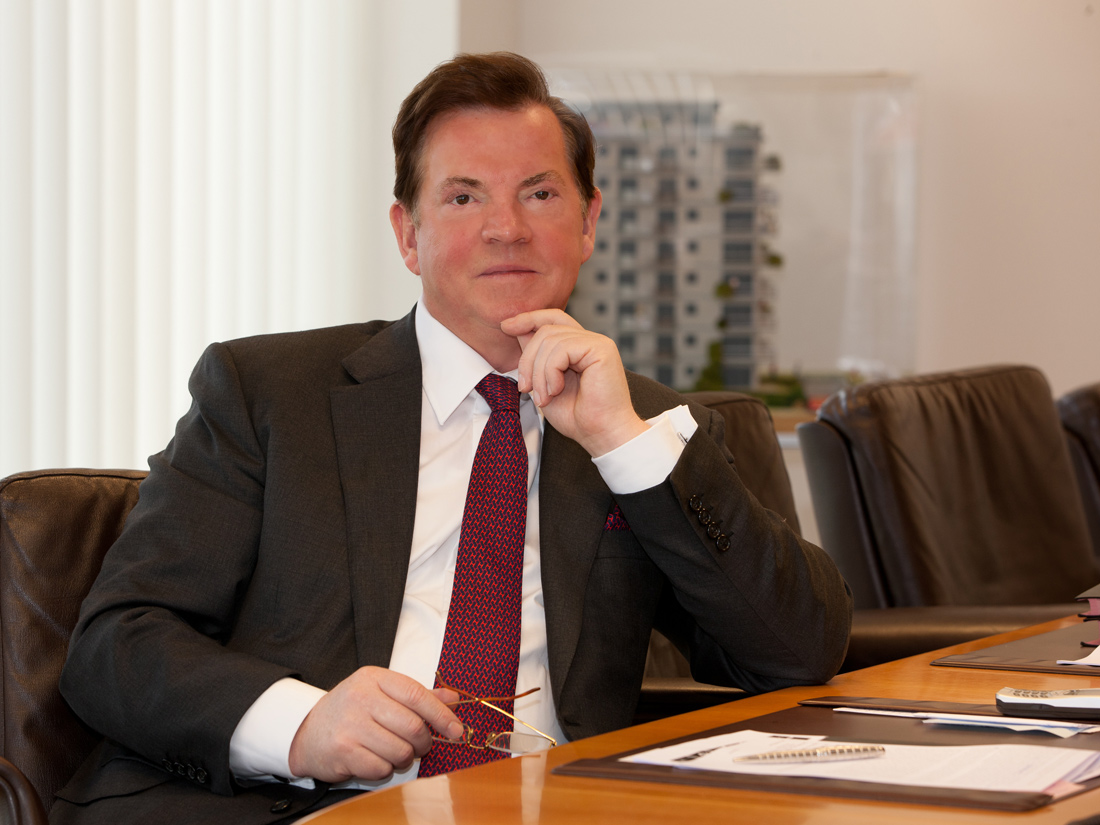 Paul Gheysens receives an honourable distinction in the Order of Leopold II
"Effect of football underestimated"
De Zondag/West-Vlaanderen Midden – 29th June 2014
Page 6


Paul Gheysens, founder of the property investment and development company, Ghelamco, was inducted this week as Commander in the Order of Leopold II. He received this distinction at the Belgian embassy in Poland, where in 1991, to the amazement of many, he had gone to build offices. The group operates in Moscow, London and Luxembourg – and is also increasingly busy in Belgium. A good example of this is the new football temple of the same name in Ghent. "We create 'living worlds' wherever we go – places where living and working go hand in hand as part of beautiful architecture," says Gheysens.
Our meeting is with a very happy father: his darling daughter has just passed her university exams in Madrid at the first attempt and both sons are already working in the Ghelamco Group. In April, Paul Gheysens himself received a good school report in the form of a lifetime achievement award from the property federation for Central and Eastern Europe. Not bad for someone who gave up his dream of becoming a vet because he couldn't stand the sight of blood. But his love for animals still endures: his stud farm in Knokke is home to some of the finest horses in the world.
How has Ghelamco developed since 1985?
The building company was the starting point, but it now represents just 5% of the group turnover. These days, we only build for a specific number of our own investments. We buy plots of land and develop projects on them. We produce the plans for the architecture and technical side, have the project built and then we lease it or sell it.
How's the market?
In Europe, the financial crisis is not over yet, but money is moving around better again. Business has picked up, but it's nothing compared with Warsaw or Moscow, which are still explosive, flourishing markets. We are also working in London, although there you have to keep things on a tight rein because of the high prices. And then there is America, which is becoming the growth market par excellence. After the discovery of shale gas and new oil, the US is exporting energy again. We need to be there for the next ten years, especially in New York. Eastern Asia and Arabia are a bridge too far for us on account of their totally different cultures and very different ownership laws. For example, in China you never become the total owner.
Is it true that you intend to invest further in our country?
In Belgium, just like in Poland, Moscow and Luxembourg, we aim to generate strong growth. This is related to just one thing: the professional knowledge that we gained in the difficult and highly competitive market in Warsaw, where all of the major players have a presence. So we have brought this high level of professionalism back with us to Belgium.
What took Ghelamco in 1991 from Ieper to Poland?
In simple terms, it was the high rents for offices. Back then, rents were already three times what they were here. Since then, we have developed 30% of the new offices in Warsaw. We sometimes forget the huge offering that we have generated there.
How dangerous is it to become involved in the power struggle between Eastern Europeans?
No one begrudges you things you have to work hard for. But if money can be made without working, in oil or gas for example, that's when the squabbling begins. But each property project requires a new beginning, in contrast with a gas tap that keeps pumping the gas all by itself. I have never had any problems with that.
Have they raised a statue to mark the modern architectural style you used to break through the Eastern Bloc greyness?
No, but we have won around 50 awards for our innovative, creative building designs. Also when you look at what we have done in Ghent, with the innovative, comfortable new section of the city. It's a whole new living environment, not just with a football stadium, but there are also offices, shops, restaurants, fitness centre, hotel, crèche, big congress centre with auditorium and so on. Creating these types of environments is what we do. The politicians and directors of AA Gent had taken away so much and we came along at the right moment to give the location a totally new lease of life.
What impact has the name of Ghelamco Arena had on your company?
That was a stroke of luck. We underestimated the football effect. In the space of 14 days, our website had a phenomenal 400,000 visitors. The stadium itself has been named one of the most beautiful new stadiums in the world, which has also given us international exposure. It would be great if the team could reach an above-average level now, but there is still work to be done there.
What are the prospects for a new national stadium, in which you are involved?
There's a group of us working on it. My viewpoint is that I want to create something genuinely beautiful, where I can really have a good time. If you don't make a complete living environment of it, it has no chance of succeeding. Various lucrative interpretations could together make it a profitable venture. There are nine chances out of ten that Anderlecht would play there, that there'd be nothing lacking in Brussels. Also, other clubs could play their European matches there if the games were too big for their own stadiums. The contribution from the government may be restricted just to the mobility angle, which is its normal job. If a decision were to be taken by the beginning of next year, the first matches to be scheduled would certainly be achievable for 2019.
Are major building projects in this country still possible without being held back by red tape and opposition?
No, I believe that we just need to break into new areas. There is a trend towards preserving and nurturing the historical inner city and then creating a good connection by train, metro, bus, etc. to new urban developments and comfortable living environments with all the amenities.
What is your view of the economic climate in Belgium?
Everyone knows what's wrong: the government apparatus is too expensive. I can't change that with a few harsh utterances. Hopefully, the political will is now in place to do something about it. You can't do the impossible. It will take longer than just one term of parliament. The people simply do not realise how comfortable they have things here. Life is just too good and now that's considered as normal. Net earnings shouldn't be going down, on the contrary. Life is expensive and people have to earn a little more. I sometimes wonder how some people manage to make ends meet. My dream is to do something for poverty. Because there is an enormous difference in wellbeing between the people who are in work and the unemployed, especially in terms of pensions. If nothing is done about it, we're heading for a disaster.
In the meantime, are we losing the battle with the rest of the world?
For business-owners in sectors that are highly dependent on their wages bill, moving to cheaper production countries is just a small step away. Can you blame them? Unfortunately not. Which is why they are disappearing, one by one. But despite that, we still have a great deal of knowledge, technology and a good workforce here. And we shouldn't forget that we have the best culture there is: nowhere is democracy stronger than it is here. But gradually we're going backwards. I wish that Europe had taken the same decisions as Washington. The expensive euro versus the dollar is also causing major companies a lot of pain. We have nothing to fear from the Middle East. They may have sources of energy, but it's simply too hot to work there.
Do you think there are still sufficient skills in Flanders?
We have invested heavily in land in Ghent, Antwerp and Brussels. To develop these plots, we will be hiring another 50 people on top of our staff of 300. This will be in Ghent, because in our heartland of Ieper, the pond has been fished dry, whereas young talent is flooding into Ghent. We are even going to start investing in support for young start-ups in biotechnology and IT.
Are you ready to hand over the business?
Our family has made things good for each other. We have a daughter who is still studying and two sons who are doing fantastic work for the company. Everyone thinks that I built the Ghelamco Arena, but they led the team of 700 people while I had to undergo a serious operation. We can also rely on our enormously strong teams. Staff turnover is very rare; lots of people have been working here for 10, 20, 30 years. The know-how for starting afresh again on each new project has become an automatic reflex in which everyone knows his or her task.
What is your ideal Sunday like?
I am a family man and never work on a Sunday. Our family is very close and you have to be able to recharge your batteries – otherwise your working week doesn't get off to a good start.
(Roel Jacobus/photo Frederiek Vande Velde)